Codra will exhibit at RAILLIVE from 29th November to the 1st December 2022, at Malaga in Spain.

What's new on the railway sector?
The rail transport market aims to be attractive by offering sustainable mobility with a low carbon footprint such as other transports like cars, trucks or goods transportation.
This sector is not immune to the current challenges of:
digitalisation of services
reduction of energy consumption
productivity efficiency
Of course, rail companies must consider these challenges, but also specific challenges to its activities, such as managing the flow of increasingly dense traffic. Moreover, this sector, which is constantly changing, does not lose sight of the need to become safer and more sustainable.
At the international event RAIL LIVE, the whole rail industry will be represented: from metro systems to freight transport, from infrastructure management to high-speed projects.
Come and visit the exhibition, the right place to learn about innovations and build together the railway of the future.
Codra with its Panorama Suite platform, provides you with concrete answers to your daily challenges.
Come and visit us at our booth 84
RAIL LIVE 2022
29 November – 1st December
FYCMA | MALAGA


A solution platform from data collect to Hypervision
The Panorama Suite platform allows you to create any type of SCADA application to perform in all activities:
Building management systems (BMS)
Centralized technical management (CTM)
Electrical energy management
Safety and security monitoring
Automatic ticketing
Access control
Station announcements
Video and radio intercom
Tunnel ventilation
Fire detection
Depot management
Our solutions are used to handle diverse applications as BMS, BEMS, Security Hypervision, but also signaling systems maintenance, electrical power supply control, etc. Thanks to our experience, Codra's team will present you a concrete example of commissioning at RAIL LIVE named Remote Securing by Network Rail.
This customer feedback shows how Panorama meets one of Network Rail's key challenges, which is securing the isolation of electrical systems by:
Enhance safety of field maintenance operators
Improve efficiency and cost of securing processes

Panorama at the service of rail transport:
The applications in railway sector are various and the infrastructures installed can be complex. This is why our Panorama SCADA solution fits to the users' specific needs by offering numerous possibilities: from station management or Hypervision to the maintenance of signaling systems or the control of the electrical system of railway lines.
   Success story: Panorama takes the tube in London:
Tube Lines, responsible for the maintenance and upgrade of part of the London Underground System, has selected Panorama to manage its processes. Since 2000, over 74 underground stations have been deployed with Panorama E² software.
London Underground benefits from the many advantages of the Panorama SCADA solution:
Future proof, Panorama continuously uses new and non-proprietary technologies,
Object modeling which reduces development costs,
Ergonomic design tailored to the operator's needs, accessible anywhere, anytime.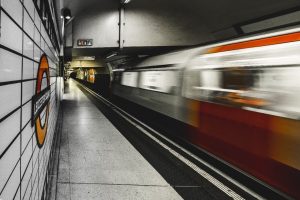 We look forward to seeing you at Malaga from 29th November to the 1st December 2022!