Coming from the world of SCADA, this new solution is able not only to centralise all Edge Node data but also to send commands securely to local SCADA systems. In addition, how would you feel if this solution was easy to deploy, allowing full remote management of applications and providing a remote maintenance tool? No more complex and difficult-to-maintain technical architectures, no more costly trips of highly qualified personnel to carry out operations of secondary importance! Welcome to the era of Edge to Service! 
Edge Computing, Edge to Cloud, there are many innovative concepts that allow data to be processed locally, whether it is subsequently uploaded to a Cloud for analysis or not. But do you know the principle of Edge to Service?
The principle remains the same: process data locally to send it securely to a higher-level system that aggregates and unifies all the information. In this context, however, the centralised Hypervision system is not necessarily in the Cloud. It can also be deployed on a corporate network.
The Panorama Suite is continuously being developed, year in year out, and continues to bring you new high-performance services for new uses.
With the Edge to Service solution, this centralised Hypervision has been designed to be deployed by non-specialists, remotely administered by your business teams and secured in line with IT standards.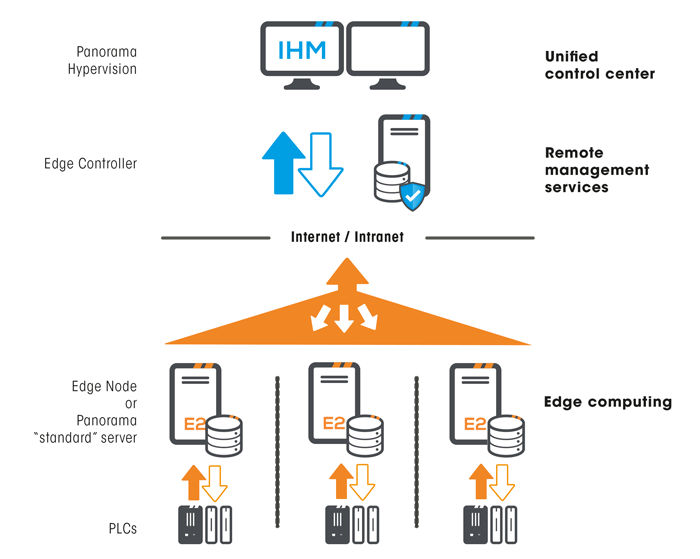 Architecture de Panorama Edge to Service
But what is a Hypervision?
In a nutshell, it is a SCADA system controlling other SCADA systems. In other words a Hypervision aggregates, consolidates and presents data from different subsystems in a
Human Machine Interface (HMI).
These may be, for example, local SCADAs from autonomous sites, possibly distributed over a territory. A Hypervision can also be a kind of "super-SCADA" which would consolidate data from different systems in the same way as a SCADA, and also interface with weather data for instance or third-party management systems such as a
BMS (Building Management System)
, GIS (Maps), CMMS (Maintenance), VMS (CCTV), access control, etc.
Why use Panorama's Edge to Service? 
Already familiar with the operational issues relating to the deployment, management and maintenance of a Hypervision system? Or, perhaps you want to opt for an innovative market solution, but without lots of prior technical knowledge?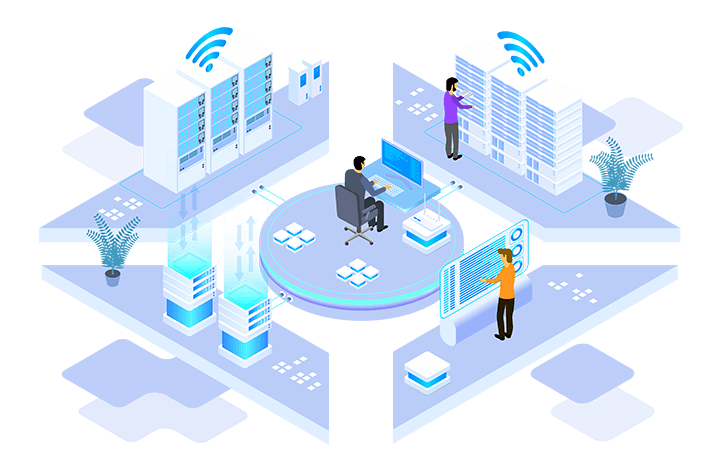 At Codra, we have been addressing these types of challenges for decades and continuously invest in R&D to offer advanced technological solutions.
We have found in traditional systems that it is often difficult for operators to maintain and develop local SCADA applications over the long term. These can sometimes be very different from each other or be spread across separate sites. We have also noticed that managing application versions and software updates was not easy either. If we add the time spent going back and forth on site and securing communication links, the cost of these operations soars!
In order to resolve these issues, Codra has developed the Edge to Service solution: a new Hypervision solution that is more modern and far easier to administer on a daily basis. Based on the principles of Edge Computing, this solution allows you to manage your local or geographically dispersed installations from a central and secure location, whilst providing you with Rapid execution:
Cost savings
A secure architecture
Increased reliability
Productivity gains
A scalable system
But how does Panorama's Edge to Service solution work?
Our Edge to Service architecture is broken down into three parts :
local and autonomous SCADA systems,
A unifying Hypervision,
A centralised administration tool.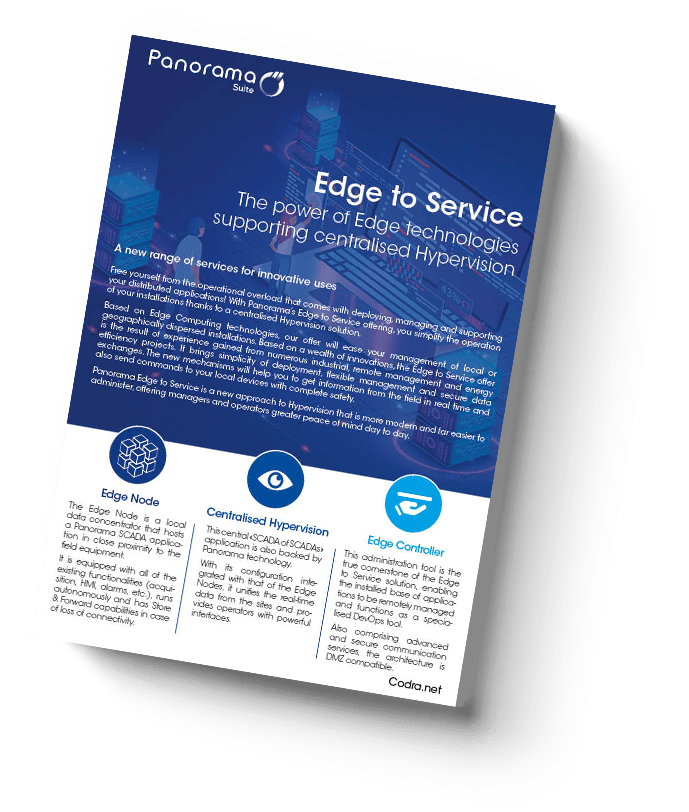 Local SCADA systems: Edge Node
The Edge Node hosts a Panorama E2 SCADA application including the server and, if necessary, a HMI. Its intelligence enables data to be collected and processed locally before being transferred to the remote Hypervision. The application can be installed on a fanless PC running MS Windows, which will runworks on site in a standalone mode and which has Store & Forward capabilities to maintain the overall system's data integrity during any connectivity outages. Panorama Edge Devices also feature the advanced cybersecurity mechanisms inherent in Panorama E2.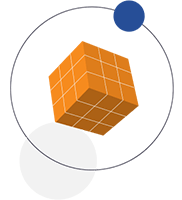 Panorama Centralised Hypervision 
This central "SCADA of SCADAs" application unifies real-time data from Panorama Edge Node. It provides operators with high-performance HMIs for controlling and monitoring remote installations. Panorama's Edge to Service architecture is such that it is possible for the remote operator to send commands to local the SCADA systems (Edge Node) from the Hypervision. From a cybersecurity point of view, communications between systems goes through the Panorama Edge Gateway brick – hosted in a DMZ – thus allowing Edge Node to securely communicate with the Hypervision.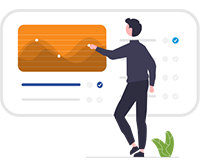 Remote management: Edge Controller

The Panorama Edge Controller administration tool is the true cornerstone of the Edge to service solution, enabling the installed base to be remotely managed. The Edge Controller can be considered as a DevOps tool where the Site + Edge Node + Application Panorama triplets are paired.
The Edge Controller is also able to manage the versioning and deployment of SCADA applications as well as handling software updates and other security patches (Panorama, Antivirus and Windows), thus simplifying the maintenance of your fleet.