The offshore energy industry plays a critical role in meeting the global demand for energy and has experienced significant growth in recent decades. The two primary types of offshore energy resources are oil and gas (fossil fuels) and renewable energy sources like wind and wave power.
The SPE Offshore 2023 Exhibition is one of the leading events in the offshore energy industry to exchange with the entire energy value chain: industrials, experts, suppliers, and decision-makers. The event showcases the latest advancements in offshore technologies, equipment, and services.
With its Panorama digital platform, Codra is helping industry to improve the operational efficiency, safety and sustainability of offshore platforms. The French manufacturer is helping industry players to meet their challenges of digital transformation and net zero.
Exhibition takes place September 5-8 2023
at P&J LIVE – Aberdeen – Scotland
Meet us on stand CODRA 3B30
How to monitor and control safely offshore oil & gas platforms ?
Panorama solutions simplify the day-to-day tasks of operators.
Beyond monitoring operations and performance, Panorama software plays a crucial role in ensuring the safety and security of offshore oil & gas installations. Panorama SCADA system continuously monitoring for potential safety risks, such as equipment malfunctions, leaks, or abnormal conditions, and provide alarms to alert operators in case of emergencies.
Indeed, the digital platform remotes operation and maintenance of offshore installations. Many operations can be performed from onshore control centers, reducing the need for personnel to be physically present on the offshore site, thereby improving safety and cost-efficiency.
Moreover, Panorama is an open platform that include integration with other control systems, such as Emergency Shutdown Systems (ESD), or Asset Management Systems (AMS). That enhances overall system efficiency and ensures seamless communication between different components of the installations.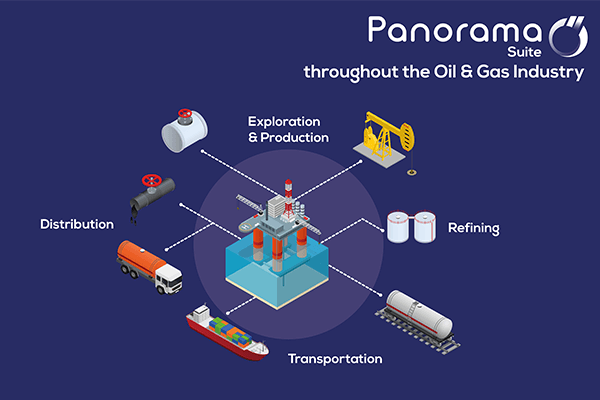 Panorama Suite throughout the Oil & Gas Industry
Success story: Process and safety of offshore oil platform for Total E&P Qatar:
Total Exploration & Production Qatar (TEPQ) operates the AI Khalij oil field, located 130km off the coast of Qatar. TEPQ chose the Panorama software platform to control and monitor its technical installations. From the control room located 40km away from the oilfield, operators can control and monitor round the clock: offshore production units, separations trains on the island, fire & gas detection and safety systems (FGS/ESD).
Thus, Panorama platform can help you on the complete safety of the personnel and assets, whilst ensuring that production activities are profitable.
A SCADA that supports energy transition of offshore renewable energy
With a growing focus on sustainability and reducing carbon emissions, the offshore renewable energy industry has gained significant momentum. It involves harnessing renewable energy resources from the ocean, primarily wind, wave, and tidal energy.
One of the challenges have to face the offshore renewable energy industry is maintaining installations in harsh marine environments.
To respond on this, Panorama software suite can be implemented for the supervisory control of renewable energy production units, to manage and monitor wind turbines and associated infrastructure. Panorama SCADA solution collects data from sensors to monitor equipment performance, environmental conditions, and energy generation. From their control room, operational teams can make informed decisions to optimize energy production, improve equipment reliability, and plan maintenance activities effectively.
A Panorama hypervision can also be deployed from the local SCADA instances to have an overview of a wind farm, for example.
Optimize the control and management of your facilities with the Panorama suite. Codra's teams are at your disposal to show you an application demo.
The offshore energy industry is a critical component of the global energy landscape. While offshore oil and gas continue to play a significant role in meeting energy demands, the development of offshore renewable energy sources represents a promising pathway towards a more sustainable and greener future.
Visiting the SPE Offshore Exhibition to discover how Panorama solutions can help you to meet your needs in terms of the performance and safety of your facilities.