On the occasion of Women's Rights Day on March 8th, Codra is highlighting a woman engineer who works within her organisation with passion and contributes to the success of highly technical projects. Through this article, Codra's objective is to encourage young women to take up scientific and technical training in order to target the fast-growing tech professions on the job market.
To do this, we interview Sameh Chiboub, Development Engineer at Codra for just over a year. She talks about the path that led her to a job which is mostly practiced by men: Software Engineer. She also shares with us her vision on the evolution of women in the Tech world.
3 questions to Sameh Chiboub, Development Engineer at Codra.
What is your academic and professional background in the field of engineering?
When I was little, I wanted to join the military service or to specialize in agriculture! Today I am fulfilled in the new technologies sector where every day is different. I did the first part of my studies in Tunisia. For 3 years, I followed an applied degree in electronics, then I continued with a Master's degree in electronics, focusing on renewable energy. Finally, I finished my studies in France by joining the ENSIL-ENSCI Engineering school in Limoges for three years. I graduated as an « Electronics and Telecommunications Engineer ».
In France as in Tunisia, the majority of my classmates were men. There were 6 women out of 100 engineers in my class!
After graduating, I had my first professional experience in a company specialized in water efficiency. My mission was to help industrials to optimise their water consumption. For 5 years, I enjoyed this multi-faceted job, from project study and planning to development, as well as travelling for diagnostics, maintenance, etc., on site.
Then I wanted to acquire new skills by joining Codra, the manufacturer of the Panorama SCADA platform.
What are your daily tasks at Codra?
I work on the Panorama Communication Front-end offer. I bring my expertise in particular on the IEC 61850 and SNMP communication protocols as well as on database archiving. The IEC 61850 protocol is widely used in the energy sector, particularly in electrical distribution station projects. As for the SNMP protocol, its role is to control exchanges between machines.
When incidents are reported on these subjects by our customers or internal teams, my role is to resolve the bugs quickly and implement changes. I particularly enjoy the challenge of solving these problems. My work is mainly based on sharing with customers, colleagues and also with the open source software communities on the web.
In your opinion, what is the future of women in the Tech world?
I am very hopeful about the future, mentalities are changing. Throughout school or professional career, I have never felt left out. It is the results that come first, whether you are a man or a woman.
Moreover, most jobs in technology do not require physical effort. Today everything is automated: mechanics, electronics, process lines, etc. These jobs are open to everyone. You just need to be rigorous and patient. And on this point, I have always taken my mother as a model. She inspires me every day: willpower, energy and positive thinking are my mentra.
Finally, I would advise women, whether they are young or changing of careers, not to be afraid to take up jobs that are emerging around new technologies.
With the integration of ICT into our daily lives and particularly in education, children will be increasingly attracted to this branch of innovation. From now on, they will be able to think about professions such as engineering from a very young age.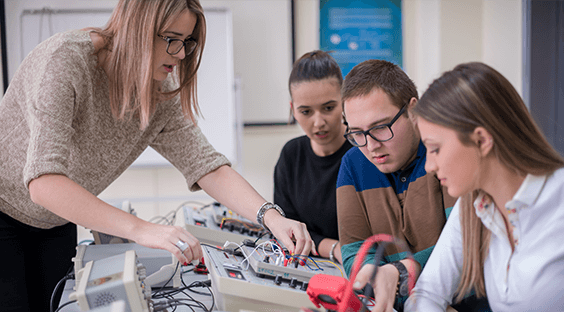 A final word?
What I appreciate most about Codra is the good atmosphere. Whether the colleagues or between departments, I notice that there are always moments of sharing with the aim of creating or strengthening links. Human beings are really at the heart of the Editor's priorities.