Information technology is evolving day by day, as we can see in our daily lives. From the first mobile phones to the smartphone, technologies are advancing and new uses are emerging. The industrial world has followed this evolution by broadening its concepts to offer ever more new technologies and new uses, while maintaining durability and robustness.
The management of distributed installations is based on Telemetry, distributed Hypervision and now Edge Computing. Although they are all linked to distributed management and monitoring, it is important to understand their differences and their specific areas of application.

History: the « Telemetry »
Telemetry is one of the historical concepts integrated into the Panorama suite. It enables measurement and control operations to be carried out, and information to be acquired and retrieved from remote sources. Even in the event of communications failure, telemetry uses local processing resources (action loops, schedule processing, etc.) and buffers data and alarms locally to ensure that information is retained.
Panorama's telemetry software is used for installations of up to several thousand sites, with heterogeneous communication protocols/means and multiple links on different media (IP, GPRS, PSTN, SMS, etc.). Telemetry is often based on different protocols from the water treatment and tertiary sectors (Sofrel, Wit, etc.) and, more recently, from the IoT (Sigfox, MQTT, etc.).
An evolution: « Distributed Hypervision »
The primary need of distributed Hypervision is to enable unified management of a set of sites by cross-referencing data between them. It is mainly used in single-trade mode (management of one trade for "n" distributed sites).
Distributed Hypervision centralises the collection of data from the various sites, analyses it and helps to make decisions based on this information. It also facilitates alarm management, data visualisation and report generation.
Panorama adds a geographical dimension thanks to Geo SCADA (enabling the status of installations to be viewed on a map, and summary information to be displayed).
The advent of a new concept: Edge Computing
In addition to the functions described above, Edge Computing addresses the following issues:
Advanced local control capabilities (by the operator using the ergonomics of Hypervision or automatically) that can be combined with control from Hypervision.
Multi-business management (to supervise all aspects of a site) by connecting to all types of equipment/automata present on site (via BACnet, Modbus, OPC UA and Classic interfaces, IEC61850, etc.).
Cybersecurity, because with greater openness, it is essential to have a 'Cybersecurity' focus from the outset of the project.
Edge Computing brings the best of distributed hypervision and multi-business hypervision.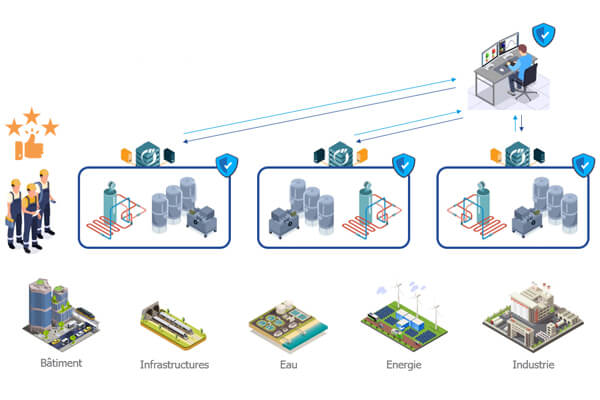 The Panorama digital platform adds to this:
The use of the same engine in Hypervision and Edge Nodes (enabling unified parameterisation for both levels, thereby reducing development time and ensuring common ergonomics for users).
Asset management that lets you know the status of different sites, update them, share configuration between sites, etc. (necessary for applications that can hypervise several thousand sites).
On-site deployment optimisation (to limit the need for technician intervention).
Remote facility management has evolved in recent years. The Panorama software suite has kept pace with these developments and is able to meet these different needs.
In particular, Panorama's "Edge to Service" solution makes it easy to achieve convergence between different sites and professions, while optimising deployment and maintenance. Your installations can then be:
Unified, while retaining local autonomy
Flexible and available in terms of management
Multi-protocol/material.